What On Earth Can We Do?
"A concise but thorough environmental primer for young readers enhanced by colorful and attractive illustrations." —Kirkus Reviews
With easy-to-understand language and colorful graphics, this fun and informative book introduces children to actions that help make our planet healthier — make less garbage; repair; reuse; recycle; compost; plant a tree; don't waste electricity or water. Simple explanations of electricity, carbon dioxide, global warming, and renewable energy, and the importance of trees and water, add meaning to the actions.
Publication date: July 15, 2016
44 pages
8.5" x 8.5"
31 full-color illustrations
Paperback
$7.99 US / $9.99 CA
ISBN: 978-0-9754902-7-3
Ages 4–8
Jump Press
AtlasBooks | Baker & Taylor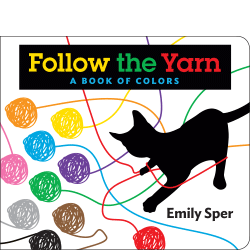 Follow the Yarn: A Book of Colors
"It's a cat's paradise: with every turn of the page of this playfully simple board book, another ball of yarn trails across the blank white spreads as Sper names 11 colors...." —Publishers Weekly
"...Pet lovers and youngsters will likely be charmed by this wonderful work that remains simple to follow. ...more dynamic than many typical concept books..." —Kirkus Reviews
"...an especially riveting color sampler for preschool age children." —Midwest Book Review
CYBILS 2016 Board Book Award Finalist
In this delightful introduction to colors, toddlers — and cat lovers of all ages—will enjoy following a kitten through the pages as he tangles with one colorful ball of yarn after another. Toddlers can also make a game of following the yarn from page to page as each color unravels.
Publication date: September 1, 2016
24 pages
7" x 6"
Full-color illustrations
Board Book
$7.99 US / $9.99 CA
ISBN: 978-0-9754902-8-0
Jump Press
AtlasBooks | Baker & Taylor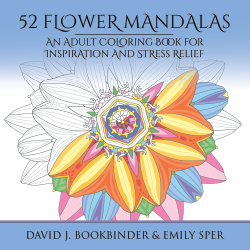 52 Flower Mandalas: An Adult Coloring Book for Inspiration and Stress Relief
by David Bookbinder & Emily Sper
The perfect balance of pattern and complexity will draw you into the beauty of the 52 flower mandalas featured in this stunning book. Each illustration is printed on a single page facing an inspirational quotation with space for reflection. Many hours of pleasurable coloring await the colorist transforming the illustrations in a deeply personal way.
$12.99 US
Published by Diversion Books.